About Bill

Listen to Bill on Marty's Podcast
December 20, 2020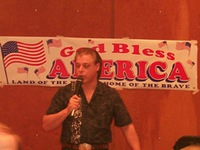 Bill at Tumbling Leaves 2001 festival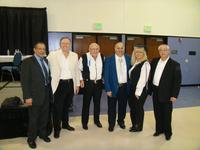 Winterfest 2010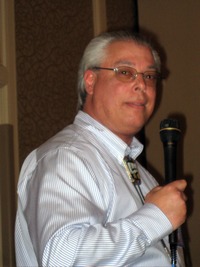 Bill was born and raised in the Baltimore, Maryland area. His interest in Square and Round dancing began at the age of 7, but within a few years it became more apparent that he would someday become a caller. In 1970 he started calling, and went on to attend a summer caller's school conducted by Mac Parker. Over the years, Bill has attended many seminars and colleges for square dance callers, including Earl Johnston and Al Brundage's schools in New Hampshire
and Cal Golden's in Arkansas. Now, Bill is an Accredited CALLERLAB Caller Coach and leads caller schools several times a year.

In 1985, Bill gave up his day job, and launched a career as a full-time professional caller.

Bill maintains a full program at home in the Maryland/DC area that includes Aqua Squares in Southern Maryland, Boomerangs Teaching Council in Virginia, Dixie Stars in Virginia, Galaxy Stars in Baltimore Maryland, Old Dominion Squares Virginia and Swinging Aces in Baltimore Maryland. These clubs dance all programs from Mainstream to C1.

Besides his local calling responsibilities, Bill travels just about every weekend. His travels have taken him to 44 states, 3 provinces of Canada, England, Sweden, Denmark, New Zealand, Germany, Finland and Japan. He has been featured at many festivals throughout the country, and has taught several caller's seminars and week-long schools. He is a regular caller at the summer weeks and weekends in Cherry Ridge, PA.

Bill has been a member of CALLERLAB since 1977. He is currently on the Board of Governors of CALLERLAB and has served on the Executive Committee for two years. He has been a past Chairman of the Career Callers Committee, Advanced Quarterly Selection Committee and Chairman of the Advanced Committee. Bill is co author of the Condensed Teach Method, a CALLERLAB 12 week teach document of Basic and Mainstream. Currently, Bill is serving on the Mainstream, Plus, Challenge, and Application Review Committees.

Bill enjoys home life with his wife Judy. He has two married daughters, Cynthia and Elizabeth, and three amazing grandchildren.

Over the past 25 years, Bill has had the privilege to record on some of the biggest labels in the square dance activity, including Red Boot, Pioneer, Kalox, Lou Mac and JoPat/ESP, and as a special guest on Global Music and Desert Gold. Bill is currently a staff artist for Elmer Sheffield Productions (ESP).

Bill is an exuberant, creative and fun-loving caller who enjoys calling for dancers as much as dancers enjoy dancing to his calls.


Subscribe to our Mailing List
Rutgers Promenaders Ice Bucket Challenge
callerbill.com/index.html
Last modified/updated on:
Tuesday 2022-02-22 11:53 MST
(other pages on this website will have different dates)
This website is owned and copyright © [an error occurred while processing this directive]2013-2023 by
Bill Harrison
. All rights reserved.
Web hosting by

This page address is: